So it's not like I'm always out here talking about Virtual Private Networks; I'm not a YouTube ad read. But the few times I bring them up in polite company, the conversation screeches to a halt as I slowly realize that nobody knows what I'm talking about. Thankfully, that's changing as VPNs become more of a known quantity and the industry consolidates into the hands of a few big companies (weird, that sounds familiar). In the meantime, the $190 ExpressVPN Aircove router is intended to be there, waiting, as more folks look for convenient ways to keep their web traffic obscured.
Sam Bankman-Fried Using a VPN, McDonald's AI Drive Thru Fails, Buzzfeed AI Quizzes Suck | Editor Picks
See, that's what a VPN does—when you connect to it, good VPN software encrypts and diverts your web traffic to its own servers, then sends it off to where you were trying to go, except now with a new origin IP address that's not your home network. Some even support multi-hop connections, so your traffic bounces around two or more times, making it more difficult to follow. With a VPN, you can keep your browsing habits hidden from prying eyes, including those of your ISP (internet service provider). You can also use a VPN to hide your IP from hackers or unlock region-specific streaming shows (or more privately sail the high seas, so to speak).
The Aircove takes this concept and puts it in a router, automatically encrypting traffic for your entire home network if you like. It's sort of a first-of-its-kind thing. That's not to say there haven't been routers with VPN functionality built into them before—there have—but the Aircove is more of a fully-fledged router in its own right rather than a VPN device with a router tacked on. As such, it uses comparatively powerful hardware and more modern wireless protocols than prior attempts. It also benefits from vertical integration, a term we normally associate with big-name companies like Apple, which controls both the hardware and software stacks of its products. The Aircove is so wrapped up in the VPN experience that, when you first set it up, entering an ExpressVPN activation code (or signing up for a new account) is the first thing it wants you to do. So before you even set your router's SSID and password or handle any other configuration, you have to get the VPN going (which is a separate subscription, by the way, and admittedly kind of pricey as these things go).
It's a cute way for Express to tell you its router is serious about privacy, and a clever way to make sure you know for sure what the Aircove is all about.
ExpressVPN as a service
ExpressVPN is one of the best VPN services you can get today. Its apparent privacy practices are strong; I say 'apparent' because we can't really know how secure ExpressVPN's servers are without direct access and testing by many different companies and expert privacy advocates. The company itself has commissioned 16 independent audits of its privacy and security practices, including a recent one by independent auditor Cure53 of the router itself, but we have to take them with a grain of salt. Performance-wise, ExpressVPN is up there with NordVPN, if a touch slower when using both providers' bespoke VPN protocols. I've used both, and I tend to only see around a 10% slower download speed compared to no VPN with either.
ExpressVPN is generally accepted to be a top-tier, no-logging service—that is, the company keeps no persistent logs of user data apart from what it uses for technical maintenance, which the company says can't be traced to any one user (this appears to be confirmed by the December 2022 audit of ExpressVPN's privacy claims by auditing firm KPMG in a publicly-accessible report), and the Aircove is the first dedicated hardware from such a company. As I said above, there have been VPN routers before, but fully designed and produced by a VPN company, with control over the router hardware design and software, as well as the VPN service? That's new.
There are good reasons to use a VPN router versus running the service via software on each device. Running a VPN on a laptop or smartphone uses local CPU resources, so having everything done at the network-level offloads that, meaning you'll have more power at your disposal. But there are trade-offs. It's a little less convenient without a taskbar app at your disposal, you don't get as many options per device, and network-level VPNs are slower, for reasons we'll get into below.
Solid VPN router performance, restrictive options
Network-level VPN comes with a much bigger penalty to your throughput than you'd get running the software directly on your computer. That's because it takes fast, dedicated hardware to quickly encrypt your data before it leaves your home network, which your computer has—routers just don't have the horsepower, even one with a Qualcomm quad-core CPU like the one found in the Aircove (and plenty of other routers). Considering that, ExpressVPN's router does a pretty good job.
How good? For me, it managed about a fifth (between 82Mbps and 120Mbps) of my 500Mbps downstream connection, with almost no penalty to upload throughput. That's still fast enough for decent download speeds and more than enough to stream—in what passes for 4K in these parts—the latest episode of Picard and the Gang. Switching to a wired gigabit connection goosed it a little, pushing around 140Mbps on most speedtests (using Ookla Speedtest). Playing with the VPN protocols available to me, I was able to get over 160Mbps when I switched to the faster but less compatible IKEv2 protocol. If you don't know what I mean by protocol, it's basically the standardized software that determines how traffic is encrypted and transmitted, and which security methods it uses to communicate with servers.
Still, I don't think you should use the VPN for your high-bandwidth applications. Probably the best use for it is obscuring traffic for devices that traditionally can't use VPN software—smart home devices like Wi-Fi light switches, plugs, appliances, and smart TVs often send traffic to and from manufacturers' servers, sometimes with no encryption. Connecting these exclusively to the Aircove so their data leaves your network already-encrypted is an appealing idea. And don't worry—since the Aircove only counts as one device toward the five-device total that comes with the company's standard VPN plan, you can still use ExpressVPN's dedicated software on your main computer even after connecting so many devices to the Aircove.
There are a couple of ways of setting up the Aircove so that it can protect your otherwise un-encryptable devices while letting a faster device service the rest of your home network. The best way is probably to attach the Aircove to another router and use it as a separate access point for the devices you want it to cover. Then, use ExpressVPN's software for your computers, tablets, and phones, connected to your primary router. Devices protected via software will also gain features like a tracker and malicious site blocking, though during a briefing with the company's Aircove product manager, David Gilbert, I was told the company is working on adding these features to the router soon.
As a router, Aircove is no hot rod
There are basically three kinds of router designs: air freshener chic lumps (or obelisks) that meekly take up as little space as possible, spiky spaceships dripping with RGB lights and promises of perfect headshots, and the all-business black boxes that know what they are and know that you don't care what they look like. The Aircove falls in the latter category, and it looks fine. On the back, it has four mildly adjustable antennas, four ethernet ports and a little barrel-shaped plug for its 12-volt power brick. On the side, you'll find a WPS button and hidden USB-A port. As for its performance and configuration options, they're about as thrilling as a tepid, shallow pool on a hot, cloudless summer day in Texas.
For most ordinary peoples' needs, the Aircove is fine—it's a dual band, so you'll get separate bands for 2.4GHz and 5GHz connections, though pricier tri-band routers are more versatile, as they give you an additional, often higher-throughput 5GHz (or sometimes 6GHz, as in the case of Wi-Fi 6E) band for your most speed-critical uses, such as large downloads or cloud back-ups. It's also a Wi-Fi 6 router, meaning it uses a protocol that brings key enhancements to Wi-Fi that offers greater security and stability, the latter owing to improved wireless interference handling. Wi-FI 6 is the standard on which Wi-Fi 6E is built (the only difference being that Wi-Fi 6E adds the 6GHz band, which was only opened for unlicensed use in April 2020 and offers faster speed, thanks to having nearly double the 160MHz-wide channels offered by the 5GHz spectrum).
Wi-Fi has been moving fast in the last few years, and Wi-Fi 6 is still a relatively new standard—Wi-Fi 6 certification only arrived in 2019—and though there were routers supporting it very soon after, like the Asus RT-AX88U, some of the most popular smartphones and computers on the market today (I'm looking at you, Apple) still haven't adopted it. That's to say nothing of the forthcoming Wi-Fi 7 protocol, which promises massive speed increases and other performance upgrades, but which won't be certified until at least 2024. Given the slow uptake of even Wi-Fi 6E, there's not much reason to hold out for a Wi-Fi 7 router now, unless you just really like having wireless networking bragging rights.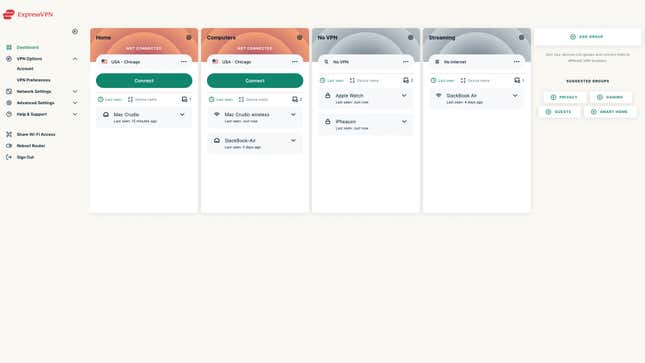 In short, for most people, the Aircove's Wi-Fi 6 connection is more than good enough to stream most content—including 4K video and even cloud games (though with the VPN turned on, I saw heavier-than-usual video compression while using Xbox Cloud Gaming, even wired). The Aircove even put up respectable wireless performance in online multiplayer games, though not with the VPN on—encrypting your traffic and routing it through an extra server doesn't tend to be great for in-game latency. But it lacks the 160MHz channel bandwidth that lets fancier routers push out data at near-gigabit-or-better rates, so it's not the best choice as the sole source of Wi-Fi on a more-than-500Mbps internet plan. Same goes if you have a demanding Wi-Fi network or have a particularly large home (ExpressVPN says it's good up to about 1,600 square feet, and in my own 1,800 square foot home, Wi-Fi reached all of it well enough for basic web browsing and even streaming video), but that doesn't mean it won't have its uses as a secondary router, even if you've got a gigabit connection.
Quick note on my testing: I don't have access to a laboratory, but I do my best to eliminate as many variables as I can. When I test, it's always from the same locations in my home, and with nobody else home. I use an M2 MacBook Air, hardwired directly to the router with a gigabit ethernet cable, as my 'server,' and my roaming 'client' device is a Samsung Galaxy Book 3 equipped with a Wi-Fi 6E network card (that's the latest Wi-Fi protocol, capable of communicating on the 6GHz band, a newly-opened-for-consumer-use range of wireless spectrum that basically means faster Wi-Fi for routers and computers).
I performed 120 throughput tests on the most commonly-used wireless band-and-protocol combinations in different locations in my home, averaging tests from each location to get a picture of its performance, and each test was done locally using iperf3, a robustly-configurable network testing tool. It simulates file transfers over the network and cuts out my internet connection as an obfuscating factor in these tests.
In my testing, the Aircove averaged just under 400Mbps at four feet away using a Wi-Fi 6 connection, but only managed a little over 300Mbps on Wi-Fi 5, which is the protocol most devices 2 years old or older use. At 15 feet away and in my living room with a direct line of sight, the Aircove's throughput dropped to 204Mbps on both protocols, but managed to only lose about 20Mbps more using Wi-Fi 6 in my upstairs bedroom (on Wi-Fi 5, it fell considerably to 131Mbps). That's about the same distance, but with a floor and a bed between the router and my laptop.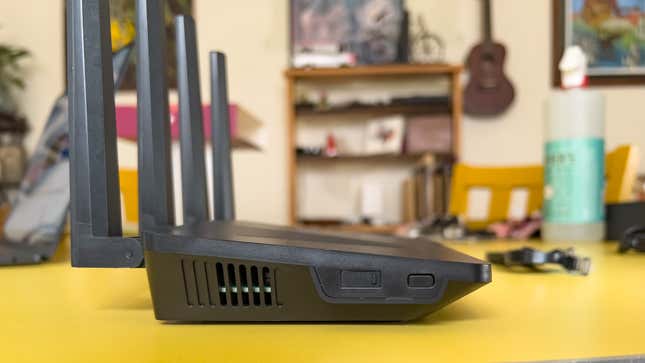 The connection was at its worst in two spots. The first was in my basement, where the signal has to contend with water pipes, a cabinet, flooring layers, and a drop ceiling. The second, unfortunately, was in my office, where weird angles, two or three walls (depending on what you count) and a large shelf crammed full of metal and plastic all sit between the router and my computer. In those two locations, throughput fell to the 60-75Mbps range, which is still fast enough that you won't notice a major dip until you're downloading large files.
All of that testing was with the VPN off. With it on, I saw only single-digit megabit-per-second throughput at worst, which is part of why I don't think the Aircove is an ideal replacement for running ExpressVPN directly on your computer. Overall, performance was okay, but you can get better non-VPN Wi-Fi performance out of similarly-priced, or even cheaper routers like Amazon's Eero 6. When I tested that, without connected mesh nodes, it stayed above 200Mbps in most locations in my home.
Not for those with a hankerin' for some tinkerin'
The Aircove feels, in some ways, like the Eero of VPN routers — it's user-friendly but its advanced settings options menus are barren places. You won't be adjusting the transmission power or toggling multi-user multiple-input multiple-output (), both things you might want to tinker with if you're troubleshooting issues with interference or older wireless devices (MU-MIMO is a Wi-Fi 5 feature that allows a router to transmit to multiple devices simultaneously, but can cause stability issues if you have a lot of devices that don't support it). There's not even a guest network option!
I asked about the lack of deep configuration, and Gilbert's answer distilled to, basically, that the company wants the router to work and wants to avoid customers hampering the router's performance to an unusable extent—bad news for anyone who knows what they're doing (or just likes to tinker), but good for the less technically-inclined, and for the company, from a tech support standpoint.
Still, the management interface has nice, easy to use features, like the ability to just drag and drop devices from the main connected clients list to up to five groups, allowing you to toggle the VPN selectively for those collections of computers, phones, gaming consoles, or whatever. You can choose your preferred VPN protocol, and you get three choices here: Lightwave, OpenVPN, and IKEv2. Those basically go in order from slowest to fastest (and newest to oldest). If you'd rather choose your own DNS service to use when the VPN is off, you can do that, and ExpressVPN provides a dropdown menu of pre-configured Dynamic DNS services for times when it's on.
An oddity in the modern router landscape, there's no smartphone app to control the Aircove — it's all done through a good old-fashioned web interface, which you get to by either typing in the local IP address of the router or by going to expressvpnrouter.com while connected to it. Once you're there, it's indistinguishable from a dedicated app. This is good: some router companies have gone so far in the other direction that you can only configure your router from a smartphone, which is a questionable approach. ExpressVPN shows you can have your cake and eat it, too.
By default, the router is set to send crash reports to ExpressVPN, which is a little annoying — the standard in software is moving toward making this opt-in, which I prefer, though it's easy to find and change this setting. If you want to turn this off, you'll find the option to do so in the VPN preferences menu.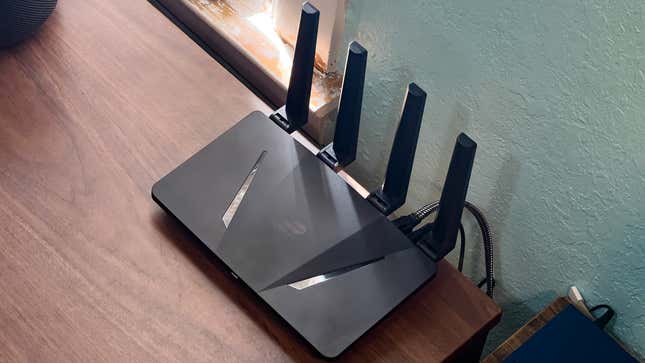 The Aircove isn't a complete product, but shows promise
Among what I've tested, the Aircove is the easiest way to add VPN service to your Wi-Fi network, full stop. Setup and configuration is fast and easy, and as a router, it's not flashy or particularly powerful, but it gets the job done. The user-friendly approach to its VPN abilities is refreshingly easy. I love the drag-and-drop group creation, for example.
Yet the Aircove has work to do before it really holds its own as a router. Though you can finagle parental controls into it by adding childrens' devices to a group that has no internet service, there is no scheduling ability, so you'll have to do that manually every time you want to restrict internet, unless you want their devices permanently cut off from the web. Gilbert says the company releases software updates at least monthly, and it sounds like the team is working to introduce more features as time wears on. But for now, the Aircove's best life may be lived as an accessory to your network, rather than the center of it.
In short, the Aircove isn't fancy, but it doesn't need to be. It just needs to do VPN things, and it does that pretty darn well. If you want VPN service for more than just a handful of devices, the Aircove is the easiest way to do it.