I've already made my Android-leaning ways known here at Gizmodo. When Apple announced it was updating the HomePod smart speaker, I didn't understand why it was a big deal—or why my Apple pals had such high hopes for and worries about it. Then I realized it was because Apple flubbed the first HomePod, which very quickly got a price drop after its release and was then discontinued. There was hope that this model would fix what didn't work in the last one and would redeem it, especially since the HomePod Mini had offered some respite. Unfortunately, that's not the case.
Apple's HomePod has too much competition to be as average as it is. Let me be clear: it is a good smart speaker. It's pretty to look at, easy to set up, and works great if you're inside the Apple Music ecosystem. But the sound it produces isn't mind-blowing, especially not since the Apple-friendly Sonos Era series of smart speakers launched. Buying two HomePods will not improve the sound much, either, at least not enough to justify the cost. At $300/piece, there are cheaper options that can produce as much or more presence than two HomePods strung together. And if it's Siri and smart home controls you're after, the HomePod Mini is much more affordable at $100.
Apple makes everything so simple and easy
The second-gen HomePod design doesn't stray far from the first-gen, but Apple leads with what works. The HomePod is a simple, circular speaker. It doesn't stand out in black or white when placed against the backdrop of suburban home life. Instead, it blends in like a vase you spent too much on at West Elm. It's Apple's minimalism in a nutshell.
While one HomePod looked fine inside my office on a shelf, my two respective black and white review units looked out of place when I took them to the living room and tried to use them as a left-and-right audio array. The problem is that I've already built my TV setup around a soundbar, so I had to place the HomePods on different pieces of furniture to frame it. One HomePod sat on the fireplace mantle, while the other was on the TV cabinet. At one point, I put both HomePods on the floor so I wouldn't have to look at their long cable tails. Sometimes, minimalism only works well if the rest of the house is outfitted for it, and the design makes the HomePod feel more like a singular device rather than something intended to be part of a full-blown surround sound setup.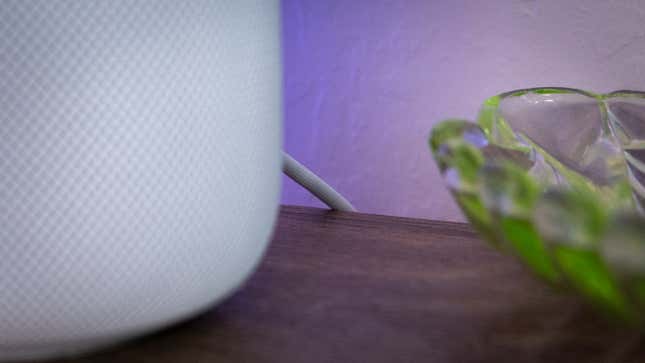 The HomePod is packed with five horn-loaded tweeters and a four-inch woofer. That is two fewer tweeters than the last HomePod, though the one woofer stays the same. The tweeters are all face outward in a circular array, meaning you'll hear your audio no matter where you stand around the device. There's also an Apple S7 chip helping facilitate the spatial room audio capabilities, which help make up for the reduced tweeter count. It is technically a weaker chip than the iPhone 6's A8 processor, which was powering the last-gen HomePod, but Apple switched to the Apple Watch's processor for its smart speakers when it introduced the HomePod Mini in 2020.
Zooming closer, you'll notice a slightly perforated surface inside the HomePod's mesh net. When gently gripping the HomePod, you can feel some padding on the outside squish. This relative softness could be an issue if the HomePod drops from a high-up place like a mantle or bookshelf. I don't own this hardware, so I didn't push it on durability while testing. But it's something to look out for if you're putting one up high.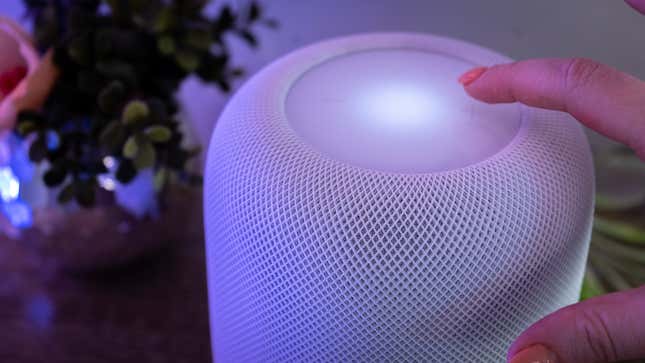 Like the revamped Sonos Era speakers and its predecessor, Apple's on-device HomePod controls are at the top of the speaker. You can tap to control the volume or bring up Siri, and the speaker's top will light up as the digital assistant listens. The base is also flat now, compared to the first-gen HomePod, which looked like someone had scooped it out. The bottom has a rubbery finish, so the speaker isn't bouncing around on smooth surfaces. It did fine atop the same flimsy bookshelf where I tested the Sonos Era 300.
Setting up the HomePod is easy. Walk into the room with the HomePod while holding the iPhone you're setting it up with, and the Apple Home app will immediately pop up with a window asking you to pair the two. Doing this with a sole unit or a left-and-right array is easy. It's even easy to move the HomePods from room to room and reconfigure them all. This convenience is a big part of the Apple experience, and I'll admit—sometimes I wish Google's stuff felt this way.
The HomePod Gen 2 is still very bassy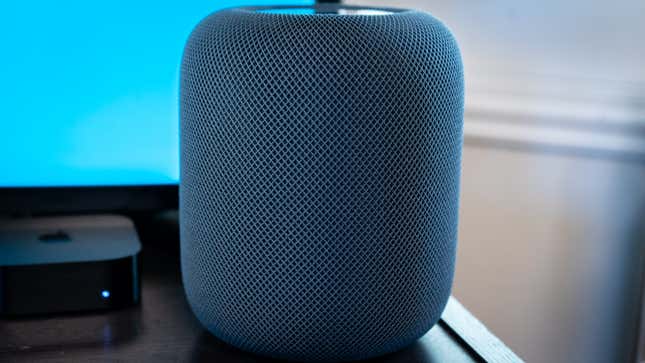 My first listening experience with the new Apple HomePod could have been better. Right before the Super Bowl, I set it up in preparation for Rihanna's live performance (sponsored by Apple Music). I paired both the black and white HomePod units with the Apple TV 4K connected to my Samsung TV. When the day came, I sat patiently during the last half hour of gameplay before the halftime show. And just as Rihanna started to sing the opening lines of "Bitch Better Have My Money," I realized I could barely hear her over the crowd's cheers, even with the volume at the highest setting.
Despite its compatibility with Dolby Atmos content, that experience left me dubious about the HomePod's ability to serve as a living room entertainment setup. Unlike Sonos' soundbars and Era series smart speakers, this setup (which was recommended to me by Apple) wasn't trying to emulate a whole surround sound experience. It was just two HomePods, in a left-and-right array, blasting what was on screen. Apple says the units should be four feet apart when paired this way, which seems more apt for a smaller apartment setting than a high-ceiling living room.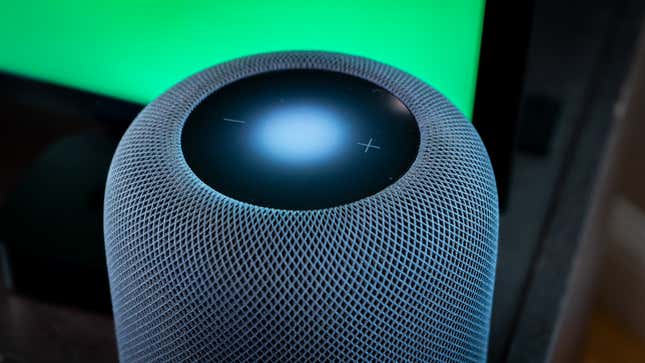 Thankfully, the second-gen HomePods were fine playing other content on TV. I had no problem watching kids' content like Bluey through YouTube TV or whatever Netflix promoted for the weekend. The HomePods did well with low-volume dialogue, even though they were placed behind the TV (because that's the only way they would stay four feet apart within my existing setup). But when I seriously wanted to watch something, like live Coachella performances through YouTube or a featured movie on Pluto TV, the HomePods made it known that they preferred pumping bass to the high-end. This was especially apparent after I put it on a 2000s pop music channel and Drake's video for "I Better Find Your Loving" came on. The HomePods were thumping! And the mid-tones and highs sounded so flat. I heard it while watching flicks, too—I don't know how I ended up on Tomorrow Never Dies (yes, the Pierce Brosnan version), but the bass was way more prominent than the dialogue in the action scenes.
I still prefer my less expensive soundbar setup over two HomePods, since I have voices and dialogue piping in from the front and bass from the action hitting from the back via the subwoofer. You don't get that kind of directional output with the two HomePods.
One of the new features of the second-gen HomePod is compatibility with Apple's Spatial Audio and room-sensing technology. The idea is that, regardless of where you place the speaker, the processor inside will use the built-in accelerometer to determine where the sound bounces around in the room. It can recognize reflections off nearby surfaces to tell if there's a wall behind it or if it's free to blare. But it's hard to tell how effective it is with the HomePod's overt bass.
I tried a synthwave song with The Midnight's "Shadows" to hear how much the bass would drown out everything else The song starts with footsteps against a backdrop of police sirens and related ambient sounds. I couldn't hear the footsteps as clearly as I did on the Sonos Era 300, which has six directional tweeters (including one positioned upward). And while the HomePods were able to deliver the "smack" that sets the song's intensity, it was hard to get into the more active parts of the melody without noticing the bass.
One HomePod is fine enough if you want a boomier, louder sound than the HomePod Mini's one driver can provide. I brought the white HomePod into my office, a smaller room with a lower ceiling. The HomePod filled my space with presence, especially with all the chillwave and chill hop I listen to while I work. But I could only do so at lower volumes, since anything higher felt too intense. Again, the bass is the culprit here. The same songs I enjoyed out in the living room were too boomy to enjoy in my office, and I felt like I needed to open the door to let the sound physically escape.
Unfortunately, Apple doesn't offer customization over the equalizer as Sonos, Google, and even Amazon do for their smart speakers. There is an option to reduce the bass through the Apple Home app, but then the synthwave and dance songs sound awfully flat. While I can appreciate that Apple wants to make it easy by taking on the labor of tuning a track, I was left wanting more control over the sound.
Apple's well-tended walled garden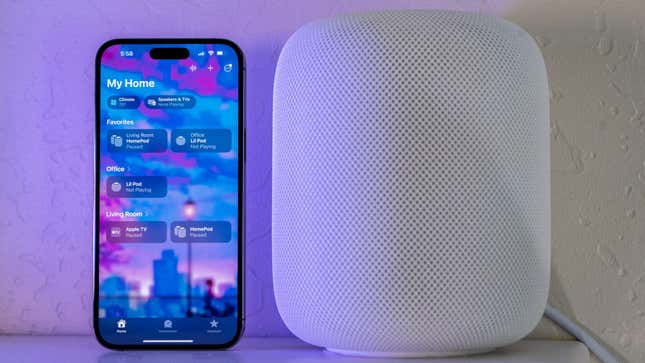 Apple's AirPlay is similar to what I'm used to with Google Casting. Tap on the AirPlay icon in the app you're streaming from on your iOS/iPadOS device, and the music pipes through the devices of your choice. AirPlay also supports Handoff, which lets you "toss" over content from a mobile device to another connected gadget within the ecosystem.
The Apple HomePod has a four-microphone array to listen in for far-field voice control—multiple mics are standard among smart speakers, as it's how the device can hear a command while playing media. For comparison, the Era 300 has four microphones for its Alexa/Hey Sonos control, and the Google Nest Audio has three. The last HomePod had six, and it seems that was two too many.
Siri heard my call over the blaring music and TV, though most of my commands were simple. Apple's digital assistant is great for setting a timer or turning on a batch of lights linked in your smart home. And now that there is access to the built-in temperature and humidity sensors built into the HomePod, you can ask Siri to give you a reading on the room the speaker is placed in—this works for multiple HomePods throughout the house, as long as they are denoted as being in different rooms. Like Alexa and Google's smart home system, the HomePod can also serve as an intercom and a speaker for a group call—it's much easier than everyone hovering around the same iPhone.
Siri works with Personal Requests, which essentially identifies your voice so that it knows it's you calling out to it. As a result, you can set up a batch of defaults for playing music and podcasts. One big bummer is that the HomePod won't set Spotify, which I am deeply tied to for streaming, as its default music app. Apple only supports Apple Music and Apple Podcasts in this instance, as well as Pandora, Deezer, TuneIn Radio, and iHeartRadio—I use none of those! It could be more friendly to those outside of the walled garden. At the same time, Apple Music is great—it has the same library as Spotify, plus Dolby Atmos tracks, and if I were deep into the Apple ecosystem, it wouldn't be an issue. But if you genuinely want a platform-agnostic smart speaker, don't buy something from Apple. Granted, the bigger issue here is maybe that the HomePod won't link to a device without AirPlay.
The second-gen HomePod does have Matter built into it, so it's ready for this next phase of the connected home. Unfortunately, I do not have Matter devices available for testing and pairing with the HomePod. I plan to explore this separately within all the smart home ecosystems rather than just Apple's.
You can use the built-in temperature and humidity sensors for automation within your home, whether you want a lightbulb to go off a particular color when it's getting too cold or a thermostat to kick on the air conditioning when it's too hot. Apple also recently made sound detection available in the HomePod, which lets the speaker listen in for smoke and intruder alarms. You enable it and all automation through the Apple Home app.
Unfortunately for the new HomePod, these features are also now available in the $99 HomePod Mini, and sound detection is available in the original HomePod.
The new HomePod is a smart speaker for Apple fans only
The second-gen Apple HomePod does little to redeem the first-generation's follies. The smart speaker is still within a relatively closed ecosystem, which is fine for diehard Apple fans but annoying for anyone with an iPhone who wants to step outside of the walled garden once in a while. And while the sound is improved despite using fewer tweeters than the first-gen release, it's only a marginal step-up is still very bass-heavy. Perhaps the HomePod's most significant improvement is that it doesn't leave a ring behind on wood furniture—or at least our review units haven't yet. But it still costs as much as the first-gen HomePod did after its initial price drop, which didn't save it from being discontinued.
There are better-priced alternatives to consider, depending on your shopping situation. If all you want is access to Siri as a digital assistant, you're better off saving money with the HomePod Mini, which also has built-in humidity and temperature detection and can be used to automate your Apple-led smart home.
If you don't care for Siri, consider the $250 Sonos Era 100, which is more friendly to other platforms. We haven't reviewed the Era 100, but based on the performance of the beefier Era 300, it's bound to be more agreeable than one or two HomePods for home entertainment. It also offers Bluetooth connectivity to any device and audio-in through an adapter, while the HomePod remains closed off to anything that isn't an Apple device. Sonos' ecosystem is compatible with AirPlay, so it's a good trade-off for iPhone users. And it offers optional access to Alexa for the smart home, which is much more sophisticated for home automation.