Apple's 2023 14 and 16 inch MacBook Pros are here, and they look mostly the same as the 2021 models. The insides, though, are anything but. This generation of Apple powerhouses introduces the M2 Pro and M2 Max chips, finally giving professionals an M2 MacBook Pro that is both performant and not using a design from last decade.
MacBook Air or MacBook Pro: Which Was 2022's Best Laptop? | TechModo
But reusing 2021's design still leaves this generation of Pros feeling safe. Basic premium features like OLED and touchscreens still aren't here, unlike on PCs, and there's got to be a better way to get a good webcam on your $2,000+ laptop than a notch.
The new internals are powerful, often enough to cut the time to complete certain intensive tasks in half. They're a great reason to buy this laptop if you don't yet have a Pro or you work in video. For everyone else, it's hard to justify the upgrade.
ON SALE NOW
Two of Our Favorite VPNs
Protect your private data
We share and access a ton of private data every day which can cause some big problems if that info gets into the wrong hands.
MacBook Pro Price and Configurations
The review unit Apple sent us for this writeup wasn't the highest available spec, but still high performing and expensive. We got the MacBook Pro 16 inch with a 12-core CPU, 19-core GPU M2 Pro chip, 32GB of RAM, and 2TB of storage. That'll run you $3,500, but you can lower this model down to $2,700 or even $2,500 by dropping the amount of RAM and storage included with it.
Alternatively, you can spend that $3,500 to get a 16 inch model with the 12-core CPU, 38-core GPU M2 Max chip. You'll also get 32GB of RAM for that much, plus 1TB of storage. If you want to get a ludicrous 96GB of RAM and 8TB of storage, you'll be spending $6,500.
The new M2 Pro and Max chips are also in 2023's 14 inch MacBook Pros, which start at $2,000 for an M2 Pro with a 10-core CPU and 16-core GPU. The 14 inch MacBook Pros top out at $6,300 for an M2 Max chip with a 12 core CPU and 30-core GPU, plus 96GB of RAM and 8TB of storage. But you can also get a lower-specced M2 Max model starting at $3,100.
All configurations come with a variable refresh rate mini-LED "Liquid Retina XDR" display that's capable of playing HDR content and hitting 120Hz. The display's resolution is slightly sub-4K, at 3,456 x 2,234.
If all those numbers sound confusing to you, just know that you'll probably be fine with 16 to 32GB of RAM, unless your work specifically demands more. Your storage needs will depend on how much you like to keep on your laptop vs the cloud or an external storage device. 1TB will likely serve most just fine.
The MacBook Pro's Notch is Still There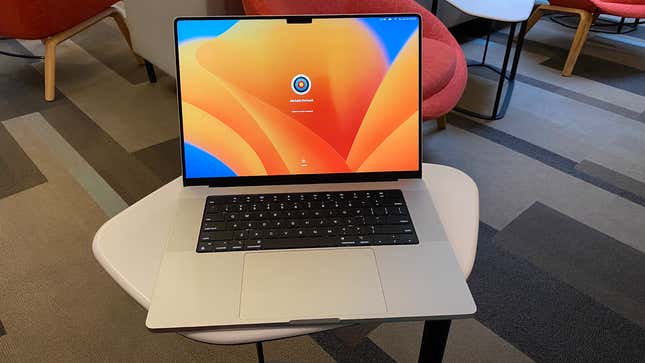 In 2021, when fashion forward tech YouTuber Marques Brownlee reviewed the last generation of 14 and 16 inch MacBook Pros, he promised that he'd wear socks and sandals for a day if the next generation of 14 and 16 inches still had a notch. It's not quite the most extreme "I'll eat my hat" promise we've seen, but I look forward to seeing MKBHD cosplay Linus Tech Tips in his next video, because the notch is still here.
And the notch is still fine. Better here than on the MacBook Air, actually, as the larger screen combines with the thin bezels to help it fade away into the background when you're not looking at it. That said, the notch's reason for being there is questionable. It's only there to integrate the facetime sensor into the laptop's internals, which gives the webcam some extra lighting smarts. But with continuity camera now allowing iPhones to act as webcams, and Lenovo developing solutions like its swappable Magic Bay webcam add-ons, maybe I should be the one promising to make a bold fashion choice if the notch is still there on the next line of Pros.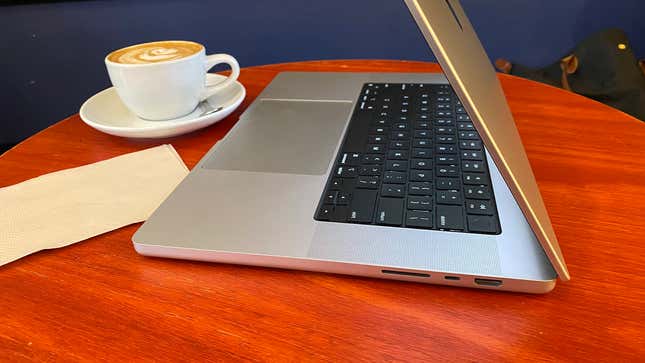 The notch isn't the only thing that's still there. This year's MacBook Pros actually have the exact same overall design as 2021's, with two Thunderbolt 4 ports, a 3.5mm headphone jack, and a Magsafe charging port on the left side along with an SD card reader, HDMI port, and additional Thunderbolt 4 port on the right side.
It's an acceptable layout for a productivity machine, and I praised it when an iteration of it came to the M2 MacBook Air last year. But while the port selection is more generous than we'd gotten used to before Mac redesigned the Pro line two years ago, the lack of USB-A ports holds the laptop back when it comes to gaming, an arena where Apple keeps insisting it's a legitimate competitor. To test the Apple silicon native port of Resident Evil village on this MacBook, I had to plug in a USB-C hub just to get my mouse working. Not a big ask, but not strictly a "native" experience, either. In a similar vein, a DisplayPort connection would also help gamers more easily connect some high resolution and high refresh rate external monitors.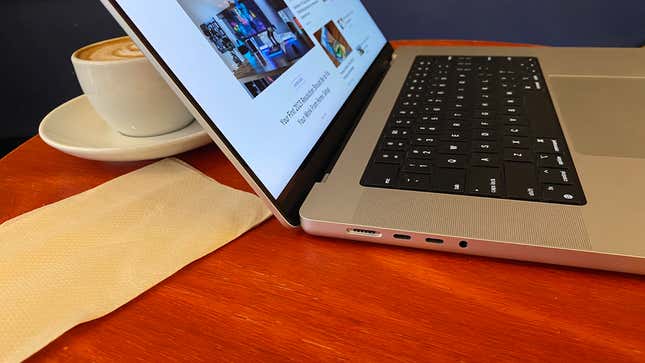 I'd also like to see Apple experiment with additional colorways for the Pro line. As usual, you can get this year's models in either silver or "space gray," aka "light gray" and "dark gray," and it's starting to get a little boring. Last year's Air models introduced gold and navy blue colorways to the Air line, and it's about time Apple's most dedicated customers got access to the same kind of variety.
The MacBook Pro's M2 is a Two Minute Monster

Unlike the M2 MacBook Air, which got a Pro-like redesign with its new generation, the biggest change to the new 14 and 16 inch MacBook Pros is that new chip. It makes the laptop a bit of a hard sell to most, since the M1 Pro was already so impressive. This is a more incremental change than the M1 series, but given the disappointment that was the 13-inch MacBook Pro with M2, the M2 Pro and Max powered MacBook Pros do fill a niche for power users. Finally, you can use Apple's latest generation of in-house silicon with both a fan and a modern, sleek body.
The result is a laptop that clears most productivity benchmarks in roughly two and a half minutes. Transcoding a 4K video down to 1080p using Handbrake? Two minutes and 32 seconds. Rendering a BMW in Blender? Two minutes and 22 seconds, regardless of whether the laptop was using the CPU or GPU to do it.
For reference, the MacBook Pro with an M1 Max took 4 minutes and 50 seconds to transcode the same 4K file when we reviewed it in 2021. It also finished its CPU-based Blender render in three minutes and 21 seconds and its GPU-based one in 4 minutes and 56 seconds.
The MacBook Pro 13-inch, with a base M2, took four minutes and 3 seconds to transcode that 4K video, 4 minutes and 35 seconds to render Blender's BMW file via the CPU, and four minutes and 36 seconds to do it via the GPU.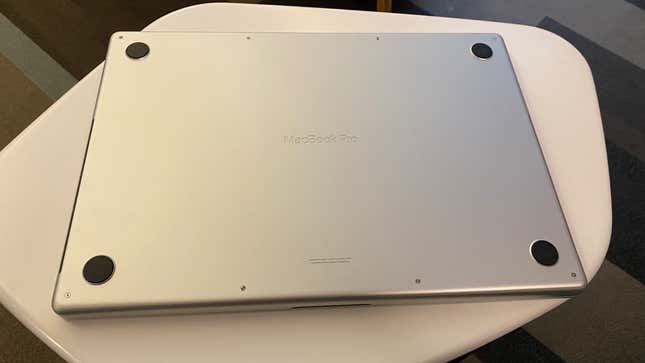 In many cases, then, this new laptop cuts the time to complete certain tasks by almost half, and in all cases, it can do them in the amount of time it takes to make a cup of coffee.
Granted, 4 minutes is also within the time frame it takes me to make a cup of coffee (I grind my beans fresh), so how much use you get out of the upgraded speed will be dependent on how often you're performing these kinds of tasks and how big your files are. In a professional capacity, the time saved could translate to real dollars.
For a non-Mac comparison, the Dell XPS 13 Plus, part of a series usually hailed for putting out Windows-based MacBook competitors, completed its Handbrake transcode in 9 minutes and 35 seconds. Not even close. Its Blender performance was roughly on par with the M1 Max MacBook Pro, taking four minutes and 27 seconds to complete a CPU-based render using its Intel Core i7-1280p chip.
We also ran Geekbench, a synthetic benchmark measuring all around system performance, on the new MacBook Pro. Geekbench uses a score system rather than a time-based one, but was equally impressive. The 2023 MacBook Pro with an M2 Pro chip scored 1,965 on single-core tasks and 15,148 on multi-core ones. That's a respectable result next to the 1,577 and 12,663 scores from the 2021 MacBook Pro with an M1 Max, and is well above the Dell XPS 13 Plus' 1,714 and 9,947 results.
You Can Game On It
Gaming on Mac is still a bit of a pipe dream, mostly due to compatibility issues. Out-of-the-box, plenty of games simply don't run on Mac, including benchmarking staples like the Far Cry series. 2023's MacBook Pros don't change that, but they do prove that the power needed for AAA gaming is there, if devs are willing to support Mac.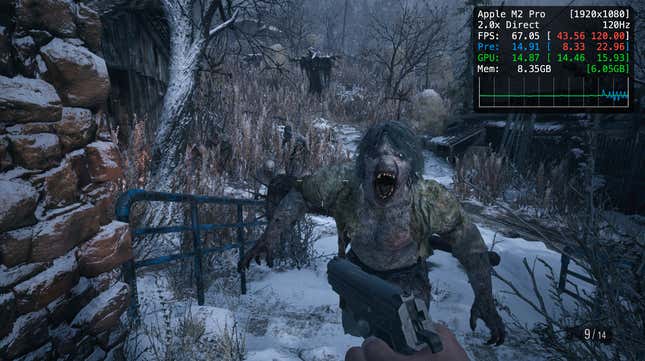 Without a doubt, the most impressive gaming experience I had on the 16 inch M2 Pro MacBook Pro was in its Apple silicon native Resident Evil Village port. Rather than running the x86 version of the game through an emulation layer (x86 being the CPU architecture most Windows machines use), Capcom worked with Apple to build this version of the game from the ground up for the M series.
It's been available since November of last year, which was well past our review for the last generation of 14 and 16-inch MacBook Pros, but the M2 Pro really lets it stretch its legs.
Playing the game from the beginning up until reaching Elena's house (about 2 to 3 hours while taking things slow and replaying action scenes with multiple different graphic presets), fan noise was never an issue and the laptop only ever got pleasantly warm to the touch. More impressively, even on graphics heavy presets, the framerate never dipped below 60.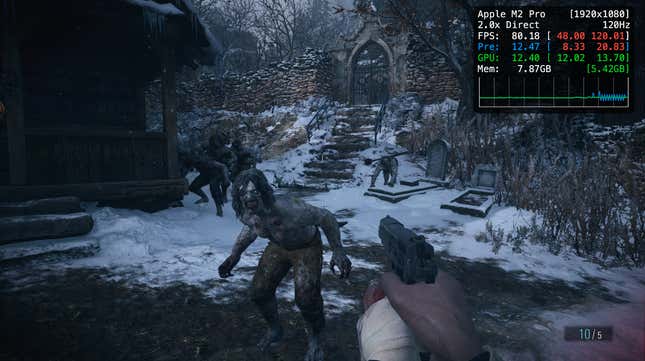 I spent the majority of my time with the game using the "prioritize graphics" and "max" presets at a 1920 x 1200 resolution. I also tried the "prioritize performance" preset at the same resolution, but quickly found that the gains weren't worth the (admittedly mild) hit to texture quality.
Regardless of preset, however, the results were a console-worthy experience, if closer to Xbox Series S than X. With "prioritize graphics" running, I tended to get frame rates in the 70 – 90 range, while "max" usually gave me an fps in the 60 – 80 range. That large delta is thanks to the variable amount of action on screen, as battles with dozens of zombi—er—lycans understandably took place at a far lower fps than simply standing and enjoying the scenery. In certain calm moments, I even saw the fps hit the 120s, allowing the game to test the MacBook's 120 hz display. The "prioritize performance" preset made these moments more frequent, but battle frame rates were relatively the same. I also had to manually unlock the fps when I used the "prioritize performance" preset, as it caps the game at 30 fps by default, well below what the 16 inch M2 Pro MacBook Pro can put out even on its worst day.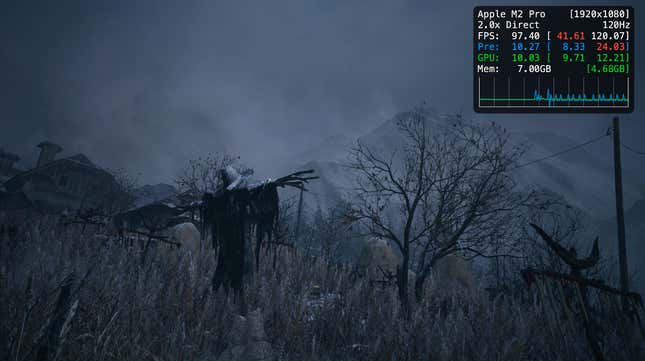 On a lark, I also tried the game at the laptop's max resolution of 3,456 x 2,234, with max settings running. Gameplay mostly kept to a locked 30 fps, which is surprisingly playable. Still, I've been spoiled by the 90+ fps I regularly pull on my gaming PC for so long that it felt like a slideshow to me.
Any issues I had with Resident Evil Village were due to USB port restrictions, since I had to use a hub to plug in my USB-A mouse, or the display. You might also run into a bug when logging in, since the game needs you to be signed into iCloud on your MacBook to run, even if Game Center and the App Store already show you as logged in. The default keybind for quitting the game is backspace, too, which means you need to press "fn" + "delete" to quit on Mac.
Games running through an emulation layer were playable but not as impressive, even those that are far less technically demanding than Resident Evil Village. Civilization VI's benchmark gave us an average frame time of 16.4 and an average turn time of 9.7, while Total War: Warhammer II's benchmark hit an average fps of 53.1.
Shadow of the Tomb Raider, another technically demanding game, hit an average 56 fps during its benchmark. All of these are playable, and even impressive for a machine as thin and portable as this, but not on par with the numbers you'd get out of a similarly thin premium gaming laptop like the Razer Blade 16.
Still, the MacBook Pro might help you stave off a console purchase for a while, if all you want to do is have access to certain AAA games. It could even replace a console entirely, if more devs like Capcom start to take Apple Silicon seriously as a gaming platform.
Long Lasting Battery
Battery life is probably where the M2 Pro and Max MacBook Pros most seriously improve on their predecessors. In our battery benchmark, where we run a 24-hour video continuously at 200 nits with any battery saving modes or automatic brightness adjustments turned off, the M2 Pro MacBook Pro lasted for 16 hours and 40 minutes before shutting down. Macs are known for battery life, but that's an almost two fold improvement over what we got on the M1 Max MacBook Pro, which lasted 8 hours and 39 minutes on the same test. It even beats out the less power hungry MacBook Pro 13-inch with a base M2 CPU, which lasted 15 hours and 47 minutes in our test.
Windows machines simply can't compare, with the Dell XPS 13 Plus getting 6 hours and 38 minutes on our test.
A Spacious Keyboard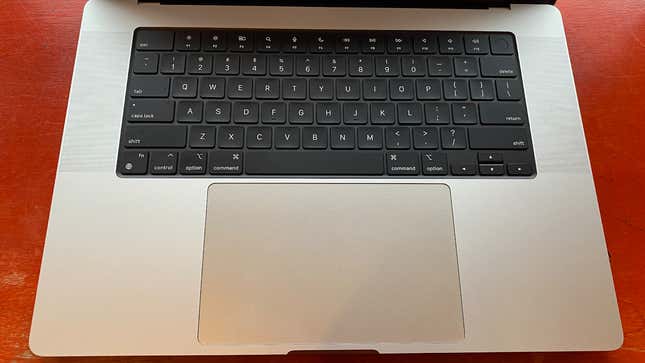 2023's MacBook Pros haven't updated the keyboard we saw on 2021's 14 and 16 inch models, which means it's still great. Gone are the days of butterfly switches, and instead we have delightfully clicky (for a membrane keyboard) scissor switches. That's to be expected at this point, but what's maybe more delightful is the full-size physical function row—no touch bar here like on the 13-inch M2 MacBook Pro—and the full-size power button with TouchID built-in. Our review unit only ever asked for my password after a restart, simply accepting a touch on any other occasion.
As for performance, I easily hit my usual 80 – 90 words-per-minute (I'm a, uh, conscientious typist) on the Pro's keyboard, and was comfortable the whole way through. The touchpad is just as reliable and smooth as ever, too, always reading multi-touch gestures on my first attempt. Its smooth surface also makes anything from precise adjustments to sweeping flicks easy, no doubt aided by its frankly ludicrous 6.5 x 3.9 inch size. If you've got a stylus or are comfortable drawing with a finger, it can also adjust line thickness based on how much pressure you apply.
Music Sounds Great on the MacBook Pro, But Speech Does Not
Like 2021's MacBook Pros, this year's models have six speakers surrounding the keyboard, with the idea being to give users a pseudo-surround sound effect. They even support the same spatial audio effect as Apple's AirPods, so long as you're listening to Dolby Atmos content. The result is effective for music, and less so for speech.
I listened to The Weeknd's Blinding Lights on our review unit and was impressed by both the depth of the bass and the width of the sound stage. Sound sources were also easy to distinguish, whether they were the sounds of cars zooming by or the singer's vocals. But vocals are exactly where the speakers fall flat.
Like on the M2 MacBook Air, dialogue is tinny and difficult to make out on this year's 16 inch Pro. It's not as much of a problem in music, but narrative programs suffer from it. I often get a similar effect when using spatial audio on my AirPods Pro, and I doubt the problem has to do with hardware as much as Apple's faux surround sound tuning.
The Avatar: The Way of Water trailer I watched on YouTube probably didn't trigger the Dolby Atmos spatial audio, but nonetheless, the voices in it didn't sound as "mighty" as Sigourney Weaver's character wanted me to hear. Even without spatial audio running, something is clearly off.
Apple Needs to Do OLED Already
At this point, Apple has no excuse for avoiding OLED displays. It has them on its iPhones, and the "retina" marketing term is really starting to feel its age. Yes, using mini-LEDs helps, but the backlight that technology employs doesn't allow it to be a proper competitor to OLED in the same vein as micro-LEDs.
We expect OLED MacBooks to come next year, and the lack of OLED on this year's offerings is probably the biggest risk in buying one over waiting.
There's two reasons to care about this. The first is contrast. Watching a trailer for Avatar: The Way of Water on the new MacBook Pro's 1,600 nit, 3,456 x 2,234 display, I couldn't deny the fidelity or brightness, but I was disappointed to see that brightness also extend to blacks. In a nighttime scene, the night sky surrounding the Sully family leaned much bluer than it did on my LG OLED TV. Similarly, because of the lack of contrast those deep blacks offer, the colors didn't appear as vivid, either.
These are minor complaints, yes. But color accuracy is important in a laptop being sold to creatives, and for the premium you're paying, you should have a premium panel.
The bigger reason to care about the lack of OLED is blooming. If a scene is mostly dominated by blacks or other dark colors, any bright elements are liable to show artifacting on the MacBook's mini-LED panel. It's not common, but when it happens, it looks like your display is borderline broken.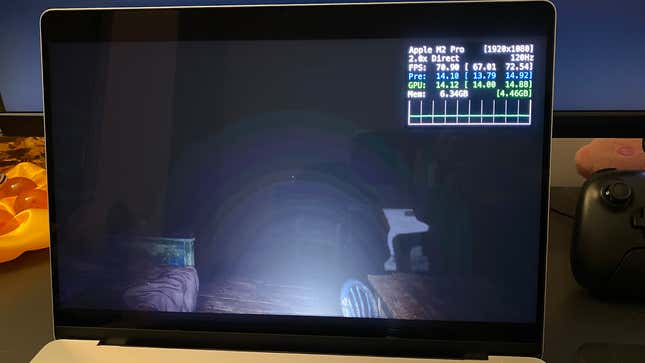 Unfortunately, in the opening minutes of one of Apple Silicon's marquee native games, Resident Evil Village, that's exactly what happened to me. In a dark walk through the woods with only a flashlight to light my way, everything in the center of my character's vision took on an almost unplayable pixelated effect. The gameplay in that section is hardly intense and is strictly railroaded, and yet, I still managed to get turned around during the straight walk from point A to point B because of how distracting the blooming was.
The Webcam Makes the Notch Worth It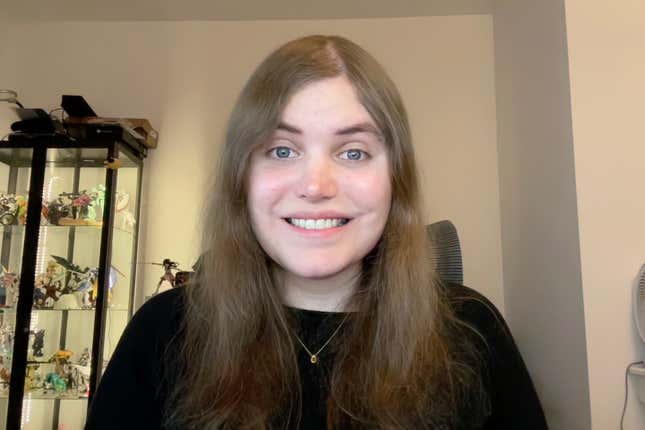 The notch might already feel antiquated, but as it is, the MacBook Pro's webcam at least makes the best of it. The full 1080p camera is already better than most on that merit alone, but the extra lighting smarts offered by the FaceTime module powering it means you're going to look your best regardless of lighting.
Taking selfies both in my home office at night and in a crowded coffee shop during a cloudy afternoon, I took shots that were almost mirror-like. I'm notoriously camera shy for someone who majored in theater, but the MacBook Pro's camera almost makes me want to take up streaming, this time without my Vtuber avatar. Even in dark environments, my face was well-lit without being washed out, too, so the camera seems highly adaptable regardless of where you're shooting from. I would have loved to point it directly at the sun to test if it's stronger than my eyes, too, but New York's January weather didn't want to cooperate. Ideally, you'd be able to take a shot while sitting in front of a bright window without being surrounded by what looks like a white sheet.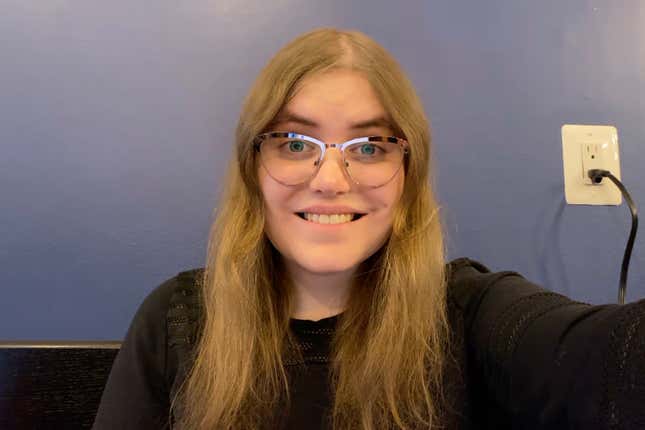 I also tried continuity camera using my iPhone 11, which is not a unique feature for the new MacBook Pros, but is indicative of a potential notch-less future. I was impressed by how quickly it connected to my phone, requiring just a single tap. It also cleared me up to use the phone's more powerful back camera, showing me its feed on my laptop screen, and the resulting shots looked even cleaner than those I took with the laptop's internal camera.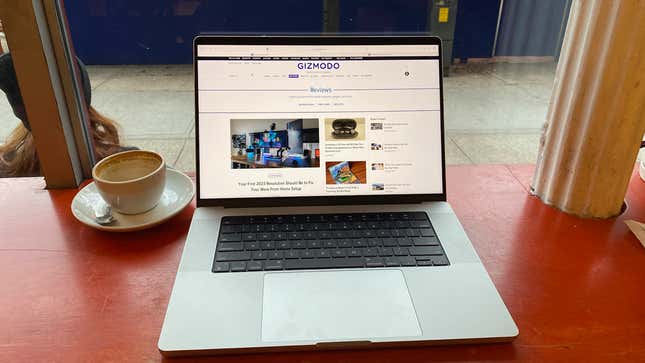 The new 14 and 16 inch MacBook Pros are easily Apple's best laptops right now, but they're for a very specific audience. Thin and light for workhorse computers, these machines carry over the best parts of 2021's models, including the facetime camera, larger screen, and increased emphasis on ports and physical buttons. They also fill a vital niche in the M2's lineup, finally giving pro users an M2 model with both a fan and a modern design.
Whether the M2 is worth it for you is what will push you over the edge here. You can cut the time to complete tasks like video transcoding and 3D model rendering in half over the already speedy times the M1 Pro and Max offered. It's arguable whether going from four minutes to two minutes qualifies as diminishing returns, but if you work in video, any time not rendering is time you can spend working.
Gamers might also get some use out of the extra horsepower the M2 Pro and Max offer, as it's clear there's enough power on here to run recent technical powerhouses like Resident Evil Village. Don't get the new MacBook solely to run it as a gaming machine, since it's still marred by compatibility issues, but depending on what you play, it's more powerful when it comes to moonlighting as a gaming computer than most productivity laptops.
All that said, this year's refresh is skippable for most. Go for it if you don't yet have a MacBook Pro and are interested, especially over the 13-inch model. That much improved battery life is tempting. But there's no pressing need to upgrade. The notch is still here, OLED and touchscreens aren't, and the colorways are still boring. 2023's MacBook Pro lineup is likely going to feel like it was a stopgap a few years from now.