Tech waste is a real thing, and while the majority of tech companies are focussed on making the next thinnest, fastest, or most powerful laptop, Framework is doing things a little differently. The San Francisco based company is shunning the throwaway culture we've all become used to and instead have released a laptop that allows users to upgrade, repair, and customize all they want whilst remaining ultra-portable and affordable.
This isn't the first Framework laptop, but it is the first time Framework's upgraded a model with new chips. With the company sure to release its 13th Gen Intel Core series laptops soon, let's look back at how it handled the 12th gen's release. Framework markets itself as more of a platform than a place to buy one-and-done devices, so it's important to know the future of what you're buying into before you take the plunge on one of its machines.
For this review, I've tested the Professional model with a 12th Gen Intel Core CPU, 1TB of storage space, and 32GB of DDR4 RAM.
Cost and configurations
When you visit the Framework website, you're given two options. You can choose a base model that comes pre-built, or you can opt for the DIY edition, which will allow you to build your very own laptop from scratch. But if you're like me and like things nice and easy, you'll select one of the three pre-built models. The three models are "base," "performance," and "professional." It's also worth noting that the prices listed here are as initially configured, with 4 USB-C Expansion Cards, so if you want different cards such as USB-A or MicroSD, these will come at an additional cost.
G/O Media may get a commission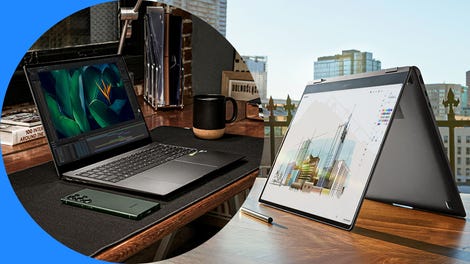 Pre-order now
Galaxy Book 3 Series
Available February 24
Each new laptop model comes with a free storage upgrade. The 1TB version of each is priced the same as the 512GB version which basically means the 1TB version is $200 off.
The base configuration starts at $1,013 and has an Intel Core i5-1240P CPU, 256GB of storage, 8GB of DDR4 RAM, and Windows 11 Home.
The performance config is the middle tier option and has a starting price of $1,413 with specs including an Intel Core i7-1260P CPU, 512GB of storage, 16GB of DDR4 RAM, and Windows 11 Home.
Then there's the professional model, which starts at $2,013 and offers a more powerful Intel Core i7-1280P CPU, 1TB of storage, 32GB of DDR4 RAM, and Windows 11 Pro.
All models come with Stereo 2W speakers, Dual MEMS microphones with hardware privacy switch, and an integrated 3.5mm combo headphone jack.
Once you've chosen your model, you can then go through the customization process. You can select your keyboard layout and which expansion cards you need. There are four slots for expansion cards on this machine, and you can choose from USB-A, USB-C, DisplayPort, MicroSD, HDMI, and Ethernet. You can also expand your storage with the choice of 250GB or 1TB.
And that's that. It's kind of like any other laptop purchasing experience, but the big thing with this laptop is that if something goes wrong, or you want to upgrade rather than buying a whole new unit, then you can head over to the Framework marketplace to purchase just the bits you need to upgrade the machine yourself.
I admit we're getting to this Intel 12th gen unit review a little late, but for example, you could easily buy a new Intel 13th gen mainboard to slot into this same laptop when Framework releases one, rather than having to upgrade the whole machine.
I was sent a range of different expansion cards, so I've experimented with changing my set up, and honestly, it's so easy. They slot in and pop out with the push of a button. Being able to switch between USB-A and HDMI to connect my monitor has made using this machine so joyful.
Doesn't look anything special, but it's about what's inside
There's nothing that interesting about the look of the Framework laptop. It looks just like any other slimline, aluminum chassis that you'll see as you scan your local coffee shop. But there is something special about the design of the Framework. The company has taken its sustainable efforts one step further by using 50% post-consumer recycled (PCR) aluminum housing and 30% PCR plastic to create it. And I've got to say, it feels durable and premium. The outer casing can also be repaired or upgraded, which is good news for anyone who's prone to dropping their machines.
This is a really light and sleek laptop; it weighs in at just 1.3kg and measures 11.7 x 9 x 0.63 inches. Considering that this is a modular laptop, that really is very thin. The screen can easily be lifted with one hand and can be tilted right back until it lays flat. On the base of the laptop, you'll find five screws to open it up, giving you access to all the individual parts that can be changed and switched around, although I have to say that the screws are a bit fiddly to remove as they're so small. Framework has neatly labeled these parts, so it's easy to see the name and number of each component. Don't worry about finding a screwdriver either, as the Framework laptop ships with one that will fit every screw on the machine.
The laptop's creen is 13.5-inches and has a 3:2 aspect ratio. It's surrounded by a black bezel with thin sides and a slightly chunkier top. That's needed, as the bezel also houses the webcam alongside the webcam and microphone kill switches. This part of the computer feels a bit flimsy and plasticky. The switches in particular don't feel as though they're quite finished. But the bezel is magnetic and therefore interchangeable, so you can choose between different colors if you want to make the machine a little more you.
The keyboard and trackpad are a joy to use
The keyboard area has a couple of cool features. For a start, you'll notice that there's a small fingerprint reader on the right-hand side of the keyboard. This makes logging in to your machine and using services like Google Pay a lot easier. There's also a flight mode key in the function row. If you're a regular traveller, then you'll appreciate the thirty seconds that this key will save you when it's time to switch from wifi to airplane mode.
The keyboard is also backlit, with an indicator for the caps lock key. Overall it's a really comfortable machine to type on. In fact, there's something really satisfying about using the keys; they've got 1.5mm of trave, making them quick and punchy, and it has the right level of noise. It's a very spacious keyboard to type on and easy to get used to, I didn't find myself accidentally punching the wrong key when working quickly.
The touchpad is also a respectable 4.5 x 3 inches and is comfortable to use. All the windows gestures worked well on it and tapping, swiping, and clicking was quick and responsive.
Display and Audio
All models of the Framework enjoy a 13.5-inch screen with a 2,256 x 1,504 resolution. The screen brightness peaks at 400 nits, which is perfect for almost all situations. This isn't an OLED screen, and if you're using it to watch movies, then you'll notice it straight away. That's not to say the colors weren't good; I tested the screen by watching Avengers: Endgame, because it's a movie that has a good range of colors. Although some of the blacks looked a little washed out and gray, the colors looked vibrant and sharp. Plus, this screen has some pretty good viewing angles. I tried it in different light situations and at different angles but didn't find that there was too much glare.
While this laptop may not double up as an entertainment center, it does have a 3:2 ratio, making it absolutely perfect for working on documents, as the screen is taller than on most other laptops. With that in mind, I'd say the Framework is definitely more of a machine that you'd use for work and business than creating and leisure.
Amongst all the razzle-dazzle of OLED screens and perfect audio, this laptop is good at getting the job done. If you're a writer or in business, then you couldn't want anything more. Sometimes, your laptop just needs to be dependable.
When it comes to the speakers, I will say that when Jennifer Lopez released 'Let's get loud,' she could have been talking about the Framework. These speakers are LOUD. In fact, I accidentally had them at full volume when I was testing them out, and I got a notification from my smart watch that it was too loud for my ears. I tested them by listening to one of my favorite cheesy 90's pop songs, Everybody by the Backstreet Boys, and whilst they were loud enough for the neighbors to here, they lacked bass and a certain amount of clarity. However, I tested them out whilst listening to a true-crime podcast and found that they were crystal clear when used for dialogue.
How are the Webcam and microphone?
The Framework has a 1080p webcam that is absolutely superb. The video quality is excellent, and I didn't look washed out or pixelated when I hopped on a Teams meeting to discuss some upcoming reviews. I found the microphone also worked well, picking my voice up clearly. There isn't a built-in option to mitigate background noise, which we're starting to see on competing laptops, although there are plenty of other options for helping to keep your calls clear. I mentioned it further up in the interview, but there are privacy covers for both the camera and microphone, which shuts them off at a hardware level.
Solid performance
The Framework may look like a MacBook, but it's aimed less towards content creators and more towards people who want a solid, ultraportable thin and light that can handle everyday tasks. That being said, I found this machine to be lightning quick. Possibly because the chip powering this workhorse is the Intel 12th Gen Core i7-1280P, which is slightly more powerful than the U models found on other laptops in this size range.
The model I tested was the prebuilt Framework that had 32GB of DDR4 RAM and 1TB of storage. The RAM ensured that there was no lag or delay when multitasking. I have to admit that I am a serial offender when it comes to having too many tabs open and too many documents on the go, so I was pleasantly surprised by just how well this machine handled it. At no point, even at my most disorganized, did it slow down or even just stop working. That's something my 2020 MacBook Pro still struggles with quite a lot.
Although this is more a machine for work documents and coding than any creative work, I did test out Adobe Photoshop to see how well it handled power-hungry apps. And I was pleasantly surprised, even when I was working on more than one image, it didn't experience any lag, even when exporting which can often cause a spinning wheel of doom to appear. Of course, this may differ depending on the model that you choose, but i7-1280P CPU and 32GB of RAM in the professional model certainly did the job. Even when I pushed this machine to its limits, it didn't run hot and there was no excess fan noise.
In benchmark testing, the Framework performed well, with a Geekbench 5 score of 1,233 for single-core workloads and 7,365 for multi-core ones. It performed even better on Cinebench R23, with a 1,742 single-core score and a 10,448 multi-core one, which doesn't put it too far behind the Dell X XPS 13. I also took the time to run our Blender test, which involves timing how quickly a machine can render a premade BMW model, and the Framework ranked quite quickly, taking around 4.1 minutes.
This isn't a gaming machine at all, but I did run some tests by trying out Far Cry 5 and Shadow of the Tomb Raider on the highest settings possible for the machine. Far Cry 5 averaged at a sluggish 18fps and Shadow of the Tomb Raider performed slightly better, averaging 34fps. Gameplay felt laggy and stuttered a lot, so if you're an avid gamer, then this isn't the laptop for you.
When it comes to ultraportable machines, often one of the first trade-offs is the battery life. The Framework unfortunately lives up to that reputation. I couldn't find any official stats from Framework on how long the battery will last, but I ran a test that includes video playback with the screen brightness dropped down to 200 nits, and the laptop lasted 5 hours and 30 minutes. It's a little disappointing that it wouldn't get you through the full 8-hour working day, but Framework is evolving all the time, and as this is a machine where you can upgrade a poor battery, it's possible you might be able to get a better one in the future.
Should you buy the Intel 12th Gen Framework?
Believe me when I tell you that I haven't been this excited about a laptop in a long time. When I first read about the concept of the Framework, I couldn't wait to try it out. For me, it lives up to all my expectations. This is a machine that means business. It's not meant for gaming or highly creative work, but for a serious everyday laptop that will age with you, it's perfect.
The swappable modules mean you can reconfigure it at a moment's notice based on what you're going to use for the day. Of course, the one big downside of it is that it only really works if the Framework ecosystem continues to exist. Sure, if they disappeared tomorrow, you'd still have a decent laptop, but the magic of this machine is that it can be upgraded and repaired quickly, easily and by you.
For now, though, I would definitely purchase this machine. It has everything its target audience could want, plus some more. It's ultra-lightweight, quick, and you won't be contributing (as much) to the tech waste pile up with it.