From the very beginning and all the way to a multiversal web of Spider-heroes, anyone who takes on the legacy of Spider-Man's mantle—across the comics that started it all, to the myriad film, tv, and game adaptations—has had to navigate a complex relationship with the police. Both Into and Across the Spider-Verse have been no exception, but the latter in particular walks a delicate line in navigating that relationship.
io9 Interview: Oscar Isaac Was 'All In' on Moon Knight
Spider-Man's history as a vigilante, and the hero's combative relationship with law enforcement because of that, have been indelible elements of the character since the very beginning. From the moment Peter steps in to take the burglar who killed his uncle above the police, to the death of Captain Stacy and beyond, it has become a part of Spider-Man's fabric, and the fabric of the many alternate Spider-heroes that have been created in his wake: a waxing and waning public perception, alongside a similar relationship with the NYPD. That relationship has been extrapolated on time and time again across both Peter's life in the comics and across the lives of those other Spider-heroes—in cases like Miles and Gwen, putting it through the lens of the other traditional stalwart Spider-trope of the balance between a personal and heroic life, where the police forces that want to take in their masked identities are none other than friends, fathers, and members of their broader family or social circles.
As America continues to reckon with the role of policing in its society—heightened by an increasing awareness of police organizations' historically terrible treatment of minorities and most particularly people of color—Spider-Man's connection to the police as a systemically murky entity has come under increasing scrutiny, especially in recent history as movements such as Black Lives Matter (itself briefly addressed in Across, with Miles having a BLM badge pinned to his schoolbag) and pressure to defund bloated law enforcement budgets have become mainstream talking points. Arguably even more messily so as we have turned to focus on other Spiders like Gwen and Miles, who muddy that connection through the aforementioned familial bonds.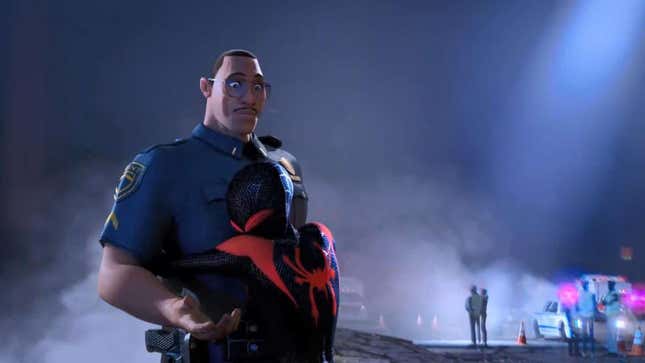 The greatest inflection point between those concerns and Spider-Man as a character arguably came to their greatest blowup with the release of Insomniac Games' Marvel's Spider-Man in 2018, where the game makes Peter a staunch ally and supporter of its NYPD. He's close friends with officers like Captain Yuri Watanabe, and gladly assists the force with setting up an extremely invasive Oscorp surveillance network across Manhattan as a pretense for hijacking that network himself to track crime. In the years since its release, and as the wider social conversation about the police has evolved in those years, the game has looked increasingly out of touch—a factor its developers were apparently not expecting to see critiqued as harshly as it was, and something they were aware of coming into development on both the spinoff title Miles Morales and this year's sequel.
It's in the wake of that re-examination that we find both Into the Spider-Verse and more specifically its new, excellent sequel, Across the Spider-Verse. As as cultural debate around the role of the police has evolved, so has Spidey media, except in this instance that evolution is not wholly without flaws. Although Into briefly explored Miles' relationship with the police through his diametric relationships with his father Jefferson—a dyed-in-the-wool cop who prides himself from having turned away from a criminal youth—and his uncle Aaron—who unlike his brother remained in criminal circles and eventually became the villain Prowler—Across makes this exploration more fundamental to its narrative.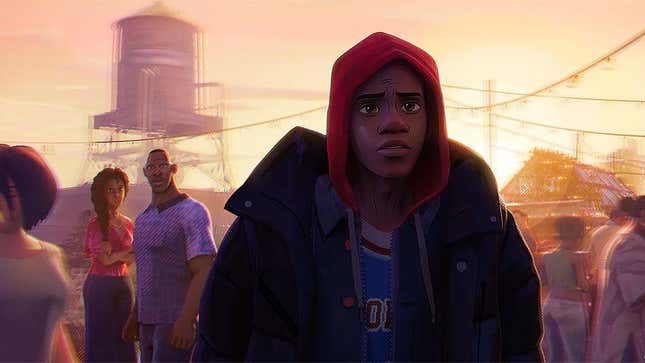 Beyond Miles struggling to keep an amicable relationship with his father, both as Spider-Man and as his son, after Aaron's passing, Across the Spider-Verse further examines its heroes' relationships with authoritarian forces through similarly direct means via Gwen's story. Her relationship with Captain Stacy, her father and a die-hard detractor of Spider-Woman, becomes even more stressed during the opening of the film when Gwen unmasks herself to him and he still tries to arrest her, and becomes the crucible that guides her and Miles' emotional arcs and their relationships with their fathers. Even beyond that, as Miles is further introduced to the world of Miguel O'Hara's Spider-Society—itself an authoritarian entity supposedly bringing order to chaos across the multiverse—and the ideological divide that splinters Miles' willingness to be part of that group echoes the historic outsider and vigilante relationship Spider-people have traditionally had with law enforcement.
It is here in particular that Across marries the two ideas to conflicting, messy results. The movie at large understands that law enforcement can lead down an increasingly authoritarian path if corruption is left unchecked—like the steady realization that Miguel's iron grip over the Spider-Society is driven by his view of Miles as an anomalous aberration to fix, rather than someone he can properly connect to as a fellow hero. Or how Gwen, upon reuniting with her father, tells him that she knows he's a good cop, and that their roles in society as a police captain and Spider-Woman are one and the same: that they wear their own kinds of badges in the hopes people who are not as nobly intended as them don't corrupt their purpose. By the end of the movie both Miles and Gwen have learned the importance of keeping these forces in check lest they grow out of control, woven through anti-authoritarian themes presented in characters like Hobie Brown, the Spider-Punk, who is a vocal critic of the Spider-Society and a key element in Miles and Gwen's decisions to rebel against it. And yet these themes clash against an ideological divide that Across also posits as a fundamental aspect of every Spider-person in existence: that their stories are shaped at some point in their lives by the loss of a cop close to them.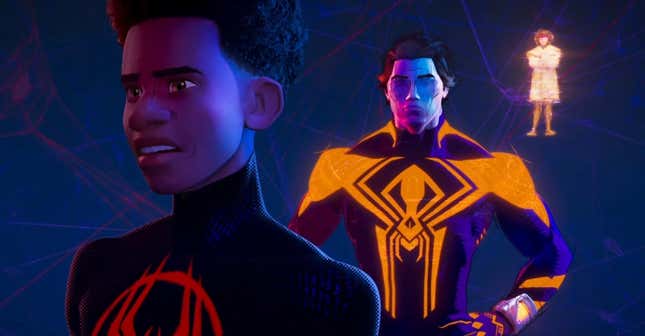 When Miguel first begrudgingly encounters Miles—in the wake of an adventure in the home reality of Spider-Man Pavitr Prabhakar where Miles saves Inspector Singh, the police officer father of Pavitr's girlfriend Gayatri—he explains that this action could destabilize Pavitr's whole reality as a disruption of a nebulous "Canon." In Across, the Canon is defined as a series of similar events that occur across every Spider-hero's life that do not just connect them emotionally (as the death of an Uncle Ben figure was in Into) but are purportedly fundamental points in time and space that cannot be changed. Miguel reveals that Inspector Singh's death was one such event, and is in fact connected across the whole multiverse as a canon event, designated as type ASM90—a nod to Amazing Spider-Man #90, the comic issue where Peter sees Captain Stacy die protecting a child from falling debris in a battle with Doc Ock.
Miguel posits that the ASM90 canon event is one that is vital to the very fabric of a Spider-person's existence, showing Miles holograms of everyone from Andrew Garfield's Spider-Man mourning Captain Stacy in Amazing Spider-Man to the Peter of the beloved animated series Spectacular Spider-Man doing much the same, handfuls of Spiders among many—Spiders who, Gwen included, seemingly understand accept that these events have to come to pass, even if it means losing someone they love. As Miles realizes that his father Jefferson is on the precipice of being promoted to captain in his own reality, the struggle of his desire to save his father from a seemingly fated death, versus Miguel and the Spider-Society's insistence that doing so could destroy all of reality itself, becomes the major source of conflict for the film's back half.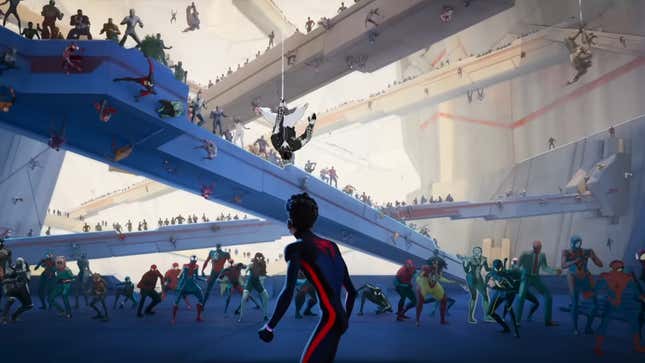 But in making that the conflict, rather than further exploring Spider-Man's historic relationship with the NYPD, Across awkwardly reframes Spider-Man's anti-authoritarian subtext into something more broadly nebulous instead of specifically about the hero's waxing and waning relationship with the police. In Across, a connection to the police defined through personal grief instead of vigilantism is unequivocally presented as crucial to every iteration of the character—presumably even somehow explicitly anti-authoritarian iterations, like Spider-Punk.
It's telling that as the film reaches its climax, both Miles and Gwen's stories ruminate on the need for good cops after their own individual moral arguments to rebel against Miguel's system. Gwen is sent home to her own reality to deal with the fallout of revealing her identity to her father, only to learn that he is going to be safe from "the Canon" after he reveals to her that he chose to support her and quit the police, sacrificing his own livelihood for hers. Miles, meanwhile, in accidentally being teleported to the home reality of the radioactive spider that bit him rather than his own, is presented with a dark, chaotic version of New York not just where Spider-Man never rose as a hero, but Miles himself turned to crime, becoming the Prowler and working alongside his uncle Aaron—because the Captain Jefferson Davis of that reality had already perished. Even as Miles and Gwen's arcs in the film bend toward the climactic catharsis of rebelling against established authority to define their own fates, that rebellion is made more abstract in favor of emphasizing our protagonist's warm, familial bonds to the police forces in their lives.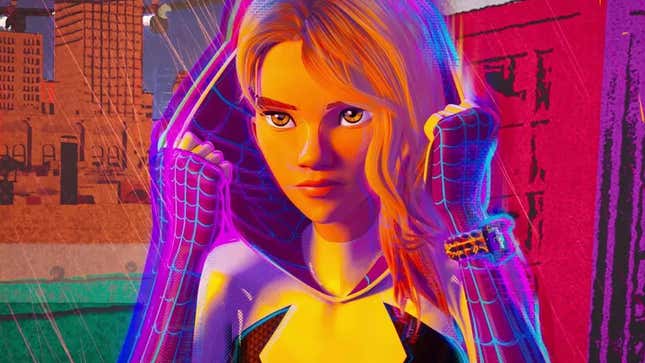 As Beyond the Spider-Verse seems to point toward further emphasizing that difference (where conflict is rooted in a "Spider Civil War" between Gwen's faction of heroes, Miles' desire to save his father, and Miguel's authoritarian overreach), Across leaves audiences holding a lot of complex themes up in the air. Time will tell if next year's Beyond will be able to resolve these contradictory messages with a satisfying conclusion, but all we can do now is wait—and hope that its conclusion can bring some clarity to the Spider-Verse trilogy's messiest political subtexts.
---
Want more io9 news? Check out when to expect the latest Marvel, Star Wars, and Star Trek releases, what's next for the DC Universe on film and TV, and everything you need to know about the future of Doctor Who.